Much like Millennial Pink being supposedly influenced (partly) by Wes Anderson's 2014 film, The Grand Budapest Hotel, the yellow I currently seek out for my Spring wardrobe reminds me of Anderson's signature colour palettes. I recall Zissou's yellow submarine, Moonrise Kingdom's yellow cinematic saturation, and a certain Tennenbaum sat in her dimly lit, yellow tent. From one creative genius to another; who could forget Queen Bey and her golden-yellow Roberto Cavalli dress, complete with baseball bat as she slammed and twirled her way through her Hold Up music video in 2016. Yellow feels like it has been working hard to become colour of the moment for the past few years. Now that Spring is here, I am jumping on the yellow-tinged bandwagon with gusto, eager to bring a pop of colour into my predominantly black wardrobe.
Today, I popped a £1 bunch of daffodils into my shopping basket at Tescos, and placed my mustard-yellow £5 Primark throw cushion oh so delicately atop my pillows as I made my bed this morning; It seems I am a fan of yellow in all its buttery shades. So, here is a small selection of yellow items I am loving for this Spring season.
---
Does the band tee ever really go out of style? I especially love vintage ones, or ones that ~look~ vintage. Where better to find brand new items that are striving for that vintage semblance than Urban Outfitters? This one is available online only, and the mustard yellow is a pleasant change from the more typical black and white band t-shirts that ordinarily dominate the stores. I really dig this item. Perhaps it's because I love Pink Floyd, maybe it's because I am obsessed with mustard-coloured everything. This item, I think, would be perfect with Levi's shorts for a festival.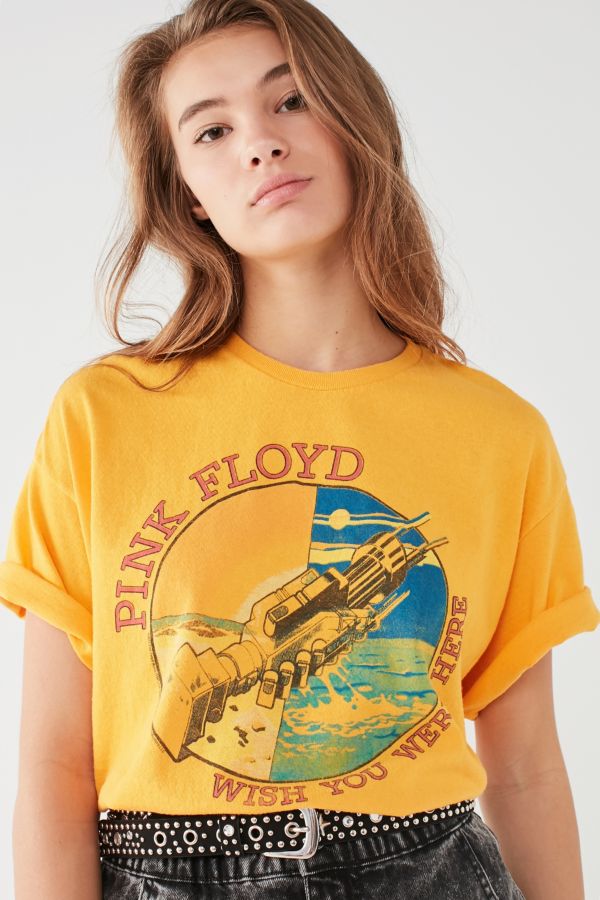 Junk Food Pink Floyd T-Shirt — £34.00 @ Urban Outfitters
---
A jacket of dreams. A jacket for me to dream about buying if ever I had the sufficient income at my disposal. Having never owned anything by Barbour before, I am unable to vouch for the durability and waterproofing the brand offers with this item. I would certainly hope that the quality would match the price tag. In keeping with the festival fashion idea, this jacket would be an optimum choice for such an event, where there is the unavoidable chance of rain (we are in England, after all), and you can enjoy the waterproof benefits whilst still remaining radiant, summery and fashionable in yellow.
Barbour Barometer Waterproof Breathable Jacket — £159.00 @ Barbour
---
If you're after a slightly brighter yellow shade on the spectrum, look no further than this t-shirt from ASOS. I am a massive fan of simple t-shirts, I believe them to be a wardrobe staple. I look for good quality material and an interesting design on the front (one that is preferably not a reference to brunch or kale). This t-shirt is 100% cotton and the use of red velvet to emboss the front design is an added bonus in my book. A perfect item to be teamed with a red lip, this cute t-shirt is one of my favourite yellow pieces this Spring. 
ASOS T-Shirt In Slim Fit With Flocked Honeymoon Motel Print — £14.00 @ ASOS
---
Vans experienced a huge soar in popularity a few years ago. With their signature authentic shoe becoming a staple piece for wardrobes of all styles, Vans were no longer a shoe just for skating in. Whilst the lace-up authentic style may have been overused, (…perhaps they were a bit too popular?) their signature slip-on checkerboard style, I think, is almost underrated. The checkerboard pattern is synonymous with the Vans brand, and although black and white is the classic colouring, this yellow and white pair is a fresh and fun take on a skateboarding classic.
Checkerboard Classic Sip-On Shoes — £52.00 @ Vans
---
Yellow can be regarded as a tricky colour to pull off, but it's a popular colour this season, and high-street stores have a wide range of shades to choose from, making it easier to find one that suits you. If you don't want to go ~full~ lemon in your outfit choices, there are plenty of retailers that are using just small accents of yellow across a range of pieces, to add that dash of sunshine onto otherwise plain items. I love the monochrome polka dots (another favourite trend of mine) on this vest top from Zara; the pattern and the yellow trims contrast tastefully. The two trends together on one item make it hard for me to resist. In fact, I couldn't resist and had to buy this after seeing it online.
Top with Contrasting Trims — £7.99 @ Zara
---
---
There you have it, an ode to my colour of the moment: yellow. Have you been wearing much yellow so far this Spring? Or are you, much like many of my friends, wearers of exclusively black all year round? Whatever your style, I hope this may encourage you to experiment with different colours in your wardrobe this season. Above all, I hope yellow can bring a bit of sunshine into your life, as it has done in mine.